First 18-meters electric bus in China powered by TM4's Chinese Joint-Venture PEPS
April 9, 2015
(Boucherville, QC) As stated on Chinabuses.org, on March 25, 2015, China's first pure electric bus measuring 18 meters in length was put into operation on bus route No. 57 in Beijing. The Foton 18-meter Harmony City BJ6180 is powered by a SUMO HD highly efficient electric powertrain with a maximum torque reaching 3,500 N.m.
Prestolite E-Propulsion Systems (PEPS), a 50/50 joint-venture between Prestolite Electric Beijing Limited and TM4 Inc.,  has been working closely with Foton over the past years for the electrification of their 12 and 18 meters New Energy Bus platforms. PEPS leverages TM4's licensed technologies in China.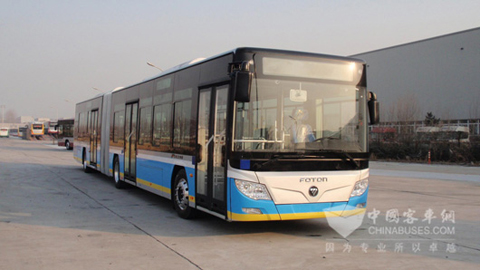 According to persons-in-charge from Beijing Public Transportation Group, the eco-friendly vehicle is a result of Foton AUV's two years of development & research. Moreover, it can be fully recharged in only two hours. When fully recharged, the bus can work continuously for 100 kilometers. With a loading capacity of 143 passengers, the 18-meter vehicle adopts light-weight monococque structure with low-floor access, which best suits the artery bus line in urban areas.
In terms of power, the bus is able to be plugged in power sockets for fast-recharging or use quick-recharging battery cells, which enormously boost the vehicle's continuous operation time.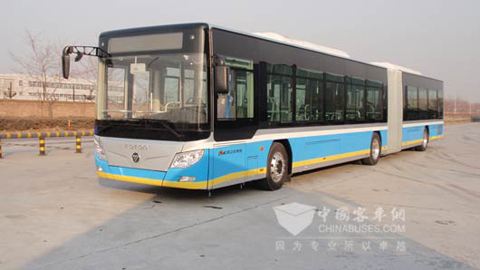 In terms of noise reduction and prevention, Foton AUV also introduces the state-of-art noise insulation technology, which well prevents the noises produced by motors and thus helps the vehicle reduce its noise to the lowest level among its counterparts. Compared with other electric buses at present, Foton AUV 18-meter bus is six to eight decibels lower in noise. Thanks to this, the bus provides even more travel comforts for daily commuters in cities.
Adopting CAN-based whole vehicle monitoring system, the bus drivers of Foton AUV are constantly informed of the performances of the spare parts of the vehicles' driveline systems. When any problem occurs, the system will immediately send out different grades of warnings so that drivers can take various measures to ensure the safe operation of the vehicles.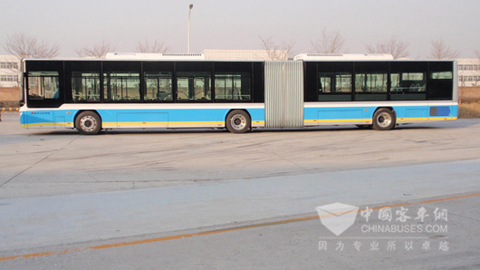 Source: http://www.chinabuses.org/news/2015/0326/article_8811.html
About TM4
A wholly owned subsidiary of Hydro-Québec established in 1998, TM4 pioneered the electric propulsion system technology developed by Hydro-Quebec's renowned research center (IREQ). Today, it provides customers in more than a dozen countries with patented technology and distinctive expertise in electric motors, generators and inverters for the transport and energy markets. Products include customized electric drivetrains for electric vehicle and hybrid vehicle manufacturers, and generators for wind turbine and gen-set manufacturers. TM4 is located in Boucherville, Québec. For more information, visit tm4.com.
About PEPS
Leveraging TM4's licensed technologies and PEBL (Prestolite Electric Beijing Limited) extensive network and outstanding reputation in ASEAN markets, Prestolite E-Propulsion System is providing high-end solutions for clean transport and sustainable mobility by developing, manufacturing, selling and supporting electric traction systems for trucks and buses, as well as commercial, off-road and marine vehicles. This joint venture is supplying clients in the People's Republic of China, Taiwan, Hong Kong, Macao, Indonesia, Philippines, Thailand, Singapore and the rest of ASEAN countries.